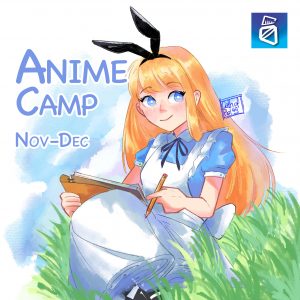 Digital Art introductory workshop for young creators developing their character designs! Suitable for participants aged 7 and above!
School's out- have an Anime art break with Ink Fusion for the June 2023 Holiday!
Learn the basics of Chibi drawing and bring home your own personalized character based on you own amazing features!
🎓 Level 1: Learn how to create an anime version of yourself by constructing guidelines and drawing character features.
🎓 Level 2: Join our rendering class and enhance your skills with color theory, rendering techniques, and design thinking! Render like comic artist with the following:
-Understanding light & shadows on volumes & shapes
-Marker Rendering techniques & mixed media on textures
-Render your original character design from level 1!
Premium Materials will be provided- jumbo connector pens.
Topics covered:
Constructing basic facial features and character design tips
Use of different media eg. ink liners and colors to refine the artwork
Drawing techniques such as rendering in two tones, color theory, design thinking.
Take aways for participants:
Your own personalised cartoon/manga character. Infinite Comic Character Creator Box Set packed with activities and links to online training resources to continue learning after the session!
Dates:
20th Nov to 7th Dec
(Mon – Thurs only)
Timing Available (Please select your preferred timing):
Session 1: 10.30am – 1pm
Session 2: 1:30pm – 4.00pm
*Level 2 classes are only available in Session 2.
2.5 hours (150 mins) per booking
Fee:
Level 1: $68 (includes Manga Bundle set and Beginner's Infinite Manga Workbook- U.P.$38)
Level 2: $88 (Premium Materials will be provided- Jumbo Connector Pens)
Sign up for Level 1 and 2 for only $138!
Class sizes are limited to 8 pax per session (choose online or onsite)
Online class: conducted via Zoom with additional $3 delivery charge of manga box set and workbook
Onsite class venues (Please indicate your preferred venue):
a) 58 Lengkok Bahru #01-519 Singapore 150058
b) Ink Fusion (HQ ), 623 Aljunied Road 03-04B, Aljunied Industrial Complex, S389835  
c) My Study Lab, The Midtown Hougang, 1187 Upper Serangoon Road, 01-40, S533971
Book a slot: mobile 8278-3311, or email: info@inkfusion.com.sg
Lesson Take-aways:
Your own personalised cartoon/manga character.
Reserve a seat through the followings:
Total Amount is $68/$88/$138 * (excludes delivery $3 for online participants) to the below payment methods: 
Lastly, remember to like and share our FB and IG posts.
Payment through Bank Transfer OCBC account: 641151022001 or Paynow mobile 8278-3311(Silver Chia)
Screenshot the payment transaction and send to info@inkfusion.com.sg or WhatsApp 8278-3311 with the following info: (1) Name and age of participant (2) Online or onsite workshop (3) which session and venue.
Click here for Young artist above 8 and teens for advance learning
Address:
Headquarter: Ink Fusion 623 Aljunied Road, Aljunied Industrial Complex #03-04B Singapore 389835. Contact 8278-3311 for reservation email info@inkfusion.com.sg