Special Offer for Online/ Onsite Art Camp for *$38 only, workshop conducted by Singapore NIE Art Specialist.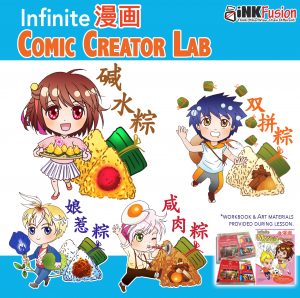 Enrol with Singapore popular Kids Art programme for cartoon and manga art on Jul 20th 2020!
What will your favorite local food look like if it was a comic character? In this workshop, comic drawing meets our favorite national pastime- Food!
Slot timings are (a) 10:30am – 12:30pm or  (b) 2 – 4 pm.
*Material Fees Apply: $20 for Infinite Manga Box Set containing required stationery and our exclusive In-House produced Infinite Manga Workbook (Usual Price $29.90).*
As part of our quality assurance, Class sizes are limited up to 8 pax per session, enabling effective engagement between each learner and our professional trainers!
Topics covered:
Constructing Basic facial features and human anatomy.
Design your own themed Fusion manga/cartoon character.
Colour study and use of different mediums eg. ink liners to refine the artworks .
Pick up fun facts and origins for various local traditional and festive snacks. See your favorite food in a whole different light by using it to create your own food themed character!
Take aways for participants:
Full color design of their own personalised cartoon/manga character
Infinite Manga Box Set packed with activities for participants to continue learning after the session
Reserve a seat through the followings:
Total Amount is $58 ($38 course fees + $20 material fees) to the below payment methods:Payment through Bank Transfer OCBC account: 641151022001 Paynow mobile 8183-7808 (Silver Chia) Screenshot the transaction and reply through email : info@inkfusion.com.sg / WhatsApps mobile 8183-7808 with indication of the required info: The Course and Date to attend, Name of Participant & Aged, Contact no. of parent. Kindly show the above verification upon attending the lesson. Information of the online log-in will be sent through the above mentioned platform upon payment made. ( Apply only to Online lesson participants)
Lastly remember to like and share our FB and IG posts.
Venue: Ink Fusion 623 Aljunied Road, #03-04B, Singapore 389835
Click here for Young artist above 8 and teens for advance learning
Address:
Ink Fusion
623 Aljunied Road, Aljunied Industrial Complex
#03-04B
Singapore 389835
contact 81837808 for reservation email info@inkfusion.com.sg