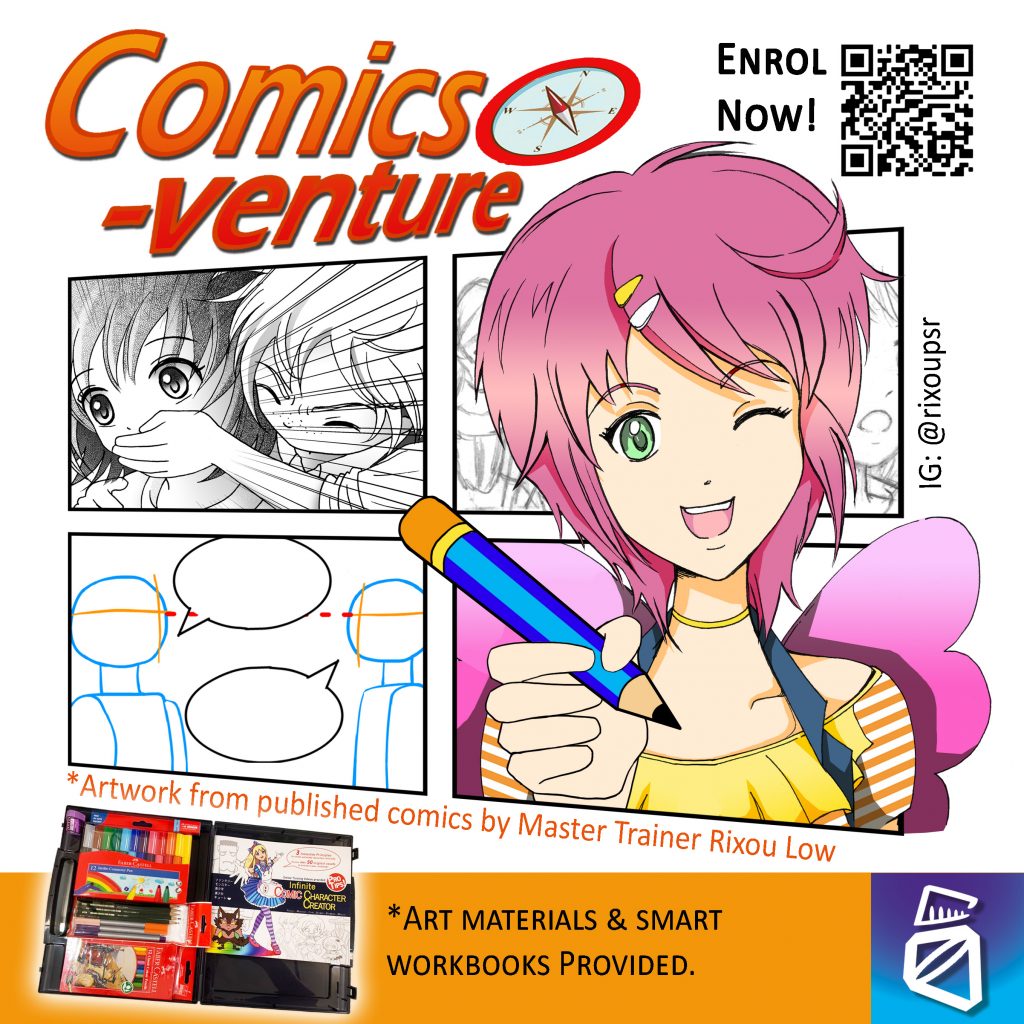 Comic-venture
Jump into a Comic-tastic Adventure this September Holidays! Create your first original Character or Ready to make your own Story Comic, there is something for learners of all ages and skill levels! Suitable for confident youth teens and adult learners, minimum age 13* year old & above.
Choose from:
*Level 1- Beginners: Character Design
4 Time slots available- 6 & 7 Sep (Mon & Tues)
Level 2 & 3 – Intermediate: Character Design II + 4 koma Story Comic creation
2 Time slots available- 8 & 9 Sep (Weds & Thurs)
Learn face to face from Professional award winning comic artists, or join the same session online from the comfort of your own home. Creative kits available on site or home delivery.
Topics covered (Level 1-2-3):
Constructing basic faces, costumes and Character design tips
Using different mediums eg. Ink Liners, shading to create attractive artwork
How to create an engaging Story Comic
Ways to overcome common creative blocks and create successful artworks
Learners can gain:
Knowledge of ratio and proportion to break down and construct complex forms
Creativity and Design based problem solving skills
Visual Communication skills
Story Writing skills
Continue learning even after the session! The workbook included in the Creative Kit is packed with other activities and linked to online tutorial videos featuring professional comic artists and Trainers, as well as to an extensive and constantly growing library of original character assets- all designed to fire up your inspiration.
About Ink Fusion:
Ink Fusion is a team of NAC-AEP experiential programme designers, consisting of professional award winning comic artists, illustrators, graphic designers and animators.  In operation since 2010, their programmes have been conducted at MOE primary and secondary schools, Tertiary institutions, Art schools, National Library, Chinese Cultural Centre and numerous community and cultural events, receiving overwhelming positive feedback.
Think Otherwise, Draw Different with us Today!
Recommended Level 1: 4 Available slots (pick one)
Basic foundations (character design)
Days to Select: 6th Sept (Monday) or 7th Sept (Tuesday)
Time Slots: 10am – 12pm (Slot A) or 12:30pm – 3pm (Slot B)
Level 2 & 3 : 2 Available slots (pick one)
8th Sept Wed or 9th Sept Thurs
*Includes 30 minutes Lunch break @ 12pm
Requirements:
Online applicants – Zoom application on your smart devices, all art materials provided
Reserve a seat through the followings:
–Onsite workshop: Total Amount is $99 course fee (Level 2 & 3) + Art materials *$48 (2 x workbooks) & (Level 1) $30, Total = $167
–Online workshop: Total Amount is $99 course fee + Art materials *$48 + Delivery $6 + (Level 1) $30, Total = $183 
Participants whom have attended level 1 of the comic course for character design need to purchase additional workbook @ $25.90. Cost $99 nett. (T&C applied)
Below are payments methods:
Payment through Bank Transfer OCBC account: 641151022001
Paynow mobile 8183-7808 (Silver Chia)
Screenshot the transaction and reply through email : info@inkfusion.com.sg / WhatsApp mobile 8183-7808 with indication of the required info:
The Course and Date to attend, Name of Participant & Aged, Contact no. of parent. zoom link will be provided upon completing the above mentioned.
Kindly show the above verification upon attending the lesson.
Lastly remember to like and share our FB and IG posts.
Venues:  
1) My Study Lab, The Midtown Hougang, 1187 Upper Serangoon Road, #01-40, Singapore 533971
2) 58 Lengkok Bahru #01-519 Singapore 150058
HQ: Ink Fusion 623 Aljunied Road, #03-04B, Singapore 389835
Click here for Young artist above 8 and teens for advance learning
Address:
Ink Fusion
623 Aljunied Road, Aljunied Industrial Complex
#03-04B
Singapore 389835
contact 81837808 for reservation email info@inkfusion.com.sg