*Home base learning available for all below programmes and prices Revised during this difficult Pandemic period. Year 2020.
In-house Workshops
Manga / Character design Art (Traditional Art) : S$160/mth
*Recommended for Age 8 yrs old & above
Saturday 1.30pm – 3pm, 2.30pm – 4pm and 3pm – 4.30pm (onsite)
Sunday 3 pm – 4:30pm, 5pm -6:30pm, 7:30pm – 9pm (online)
Wednesday/ Thursday class 4pm – 5.30pm (online)
Materials Provided will be delivered ($39)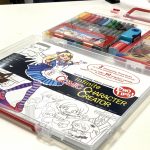 Cartoon Lessons (Traditional Art) : S$160/mth
*Recommended for Age 5 yrs old & above
Saturday 11am – 12:30pm (onsite)
Sunday 3pm – 4:30pm (online and requires accompany by parent)
*Materials will be delivered ($39)
Available New Online Digital Art Character Design : S$199/mth (click here for more info)
*Recommended for Age 9 yrs old & above, teens and adults are welcome to sign up!
Saturday 11am – 1pm, 3:30pm – 5:30pm
Sunday 1pm -3pm, 2:30pm – 4:30pm, 3:30pm – 5:30pm
Friday 4pm – 5:30pm, 7:30pm – 9 pm ( recommended for teens and adults) onsite lesson.
Trial lesson is $58 nett. We supply Wacom drawing tablets do consult us for your requirement.
Other Workshops Conducted In MOE Schools
NAC approved AEP courses, Fusion Cartoon & Manga comics workshops conducted for Primary, Secondary, O level, Junior Colleges, Textiary level, ITEs private International schools.
Digital Illustrations on PC/ Tablet featured on Newspaper
Animation courses on PC/ Tablet
National Arts Council -AEP approved Toy Making Design workshops
*Spell Art (New )
New Learning Journey tour to Comics & AnimationProduction Studio (ART Excursion subsidy by National Arts Council) 
– OUTLINE –
Students will visit comics and animation production house experiencing first hand information of the required techniques from the artists himself on how 2D anime and comics is being produced. They will witness and hands on to the process of bookmaking before the comics are being shelved in retail stores.
The idea of Entrepreneurship or Artrepreneurship will be shared with students of everlasting challenges and of the designer faced and how they overcome the situation, insider life account of the practitioner.
– LEARNING OBJECTIVES –
Students will develop visual communication design skills such as composition layout of objects. They will acquire the knowledge of ratio and proportion to construct complex organic forms trade relevant tips directly from the production crew.
Enabling them to develop sense of Artrepreneurship entrepreneurship which allows them to have ideas how much it cost to set up, market and sell their product.
Able to sell their visual ideas effectively
New Location:
Ink Fusion 623 Aljunied
Road, Aljunied Industrial Complex #03-04B, Singapore 389835
Near Mattar MRT Station, 15 minutes walk.