*Home based learning available for all Our programmes
On-site Workshops
Manga /Character Design Art (Traditional Art) : S$180 for 4 weekly sessions
*Recommended for Ages 8 & above
Saturday 1.30pm – 3pm, 2.30pm – 4pm and 3pm – 4.30pm (onsite)
Sunday 3 pm – 4:30pm, 5pm -6:30pm, 7:30pm – 9pm (online)
Wednesday/ Thursday class 4pm – 5.30pm (online)
Materials Provided ($48)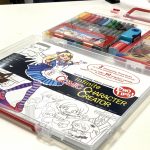 Cartoon Lessons (Traditional Art) : S$180/mth
*Recommended for Age 5 yrs old & above
Saturday 11am – 12:30pm (onsite)
Sunday 3pm – 4:30pm (online and requires accompaniment by parent)
*Materials will be delivered ($48)
Available New Online Digital Art Character Design : S$248/mth (click here for more info)
*Recommended for ages 9 yrs & above, teens and adults are welcome to sign up!
Saturday 11am – 1pm, 3:30pm – 5:30pm
Sunday 1pm -3pm, 2:30pm – 4:30pm, 3:30pm – 5:30pm
Friday 4pm – 5:30pm, 7:30pm – 9 pm ( recommended for teens and adults) onsite lesson.
Trial lesson is $58 nett. We supply Wacom drawing tablets. Do consult us for your requirement.
Venues:
Ink Fusion HQ: 623 Aljunied Road, #03-04B, Singapore 389835 
My Study Lab: The Midtown Hougang, 1187 Upper Serangoon Road, #01-35, S533971
Redhill: 58 Lengkok Bahru, #01-519, S150058
Find out more through email : info@inkfusion.com.sg
or WhatsApps mobile 8278 3311
The Learning Journey
Students will visit a comic and animation production house and learn about the required techniques from the artists themselves on how 2D anime and comics are produced. They will witness the process from conceptualisation to publication and sales.
Students will be exposed to 'Artrepreneurship' where they will gain insights into the comics and animation industry in Singapore.
Students will develop visual communication design skills such as composition layout of objects, and acquire knowledge of ratio and proportion to construct complex organic forms. Trade relevant tips from the artists will be taught.
Learn about 'Artrepreneurship' where they will learn the economics of the industry such as business set up, marketing and sales.
Other Workshops Conducted In MOE Schools
NAC approved AEP courses, Fusion Cartoon & Manga comics workshops conducted for Primary, Secondary, O level, Junior Colleges, and Tertiary level, ITEs and private International schools.
Digital Illustrations on PC/ Tablet featured on Newspaper
Animation courses on PC/ Tablet
National Arts Council -AEP approved Toy Making Design workshops
*Spell Art (New )
New Learning Journey tour to Comics & AnimationProduction Studio (ART Excursion subsidy by National Arts Council)